Sponsor & Partnership Info
Showcase your brand to the attendees of Northeast Florida's largest pop cuture event!
WasabiCon is a consumer focused media event designed to connect fans together in a fun, friendly, and entertaining environment. Started in Jacksonville in 2012, WasabiCon is Northeast Florida's largest and Jacksonville's longest running pop culture convention. WasabiCon is a community driven event made possible by businesses, organizations, and, most importantly, the fans.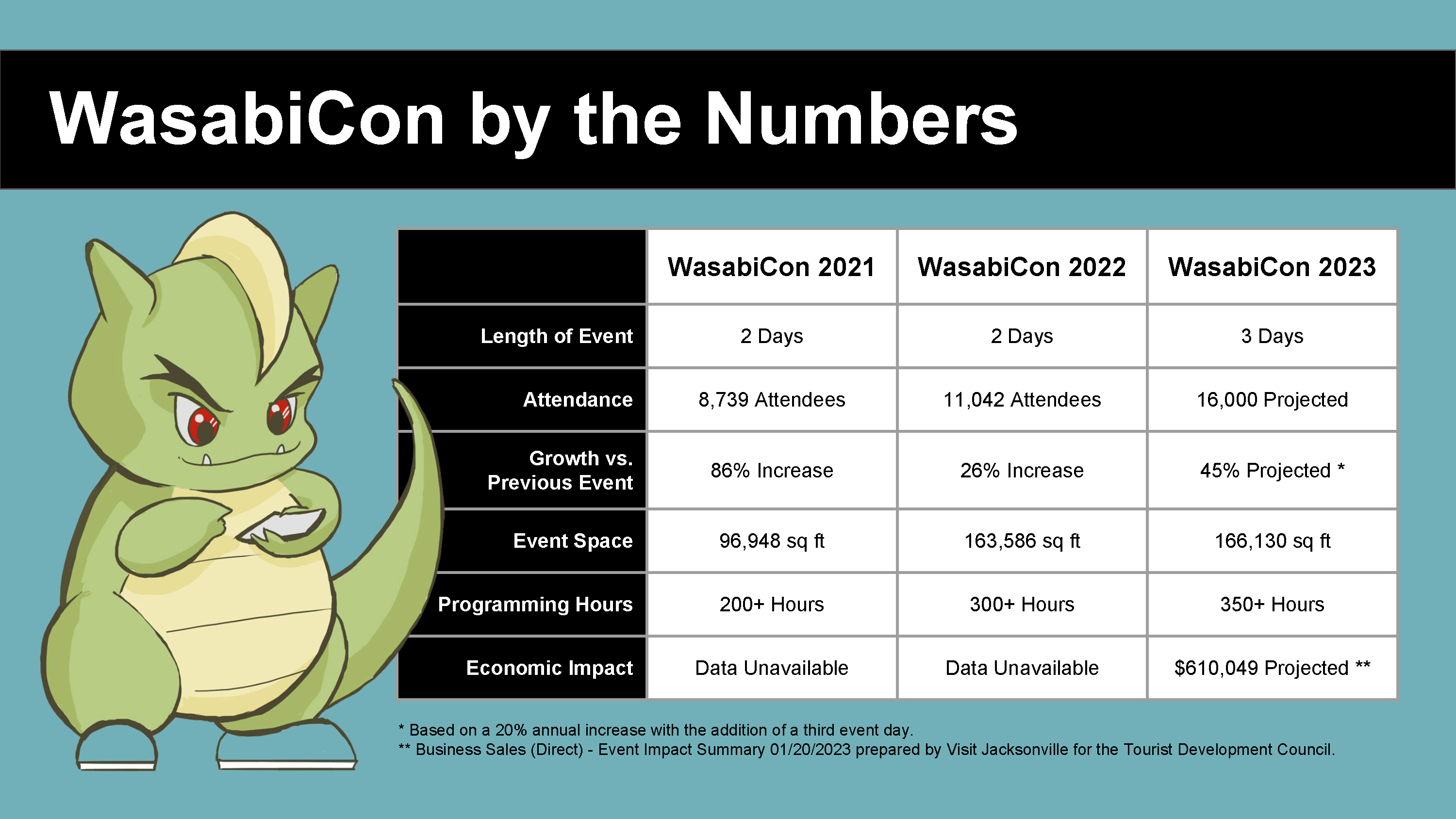 Past WasabiCon Partners & Sponsors
AnimEigo | Aniplex of America | Arda Wigs | Atlantic Self Storage | Autobahn Speedway | Awesome Toys Jax | Awkward Croc Entertainment | Bento Cafe | Blackfinn Ameripub | Blerdcon | Blue Dragon Video Games | Borderlands Comics and Games | Boxuchan | Calliope Games | Daytona Arcade Museum | Discotek Media | Downtown Vision | Emerald Dragon Games | Fans In Frame | Fireside Games | Flight Adventure Park | Florida Theatre | FOLIO | Formal Ferret Games | Funimation | Gallery Panda | GLHF Game Bar | GO Jax Events | Gotham City Pizza | Jacksonville Jumbo Shrimp | Jacksonville Public Library | Jacksonville Rollergirls | Japan Candy Box | Johnny Angel's Diner | Kawaii Box | Little eLeague | Media Blasters | Microsoft | Murray Hill-o-ween | Mythical Mountain | Nakama Anime Bar | Nerkz Media | PRI Productions | Pyrolight Productions | Redfin | Right Stuf | River City Wrestling Con | Samsung | Selfie WRLD | Senpai Squad | Sentai Filmworks | Shattered Tabletop Games | Sweet Pete's Candy | The Great Escape Room | The Meta Game | The Southern Grill | Video Game Rescue | Visit Jacksonville | VIZ Media | Vystar Credit Union | Wilson Dutra Innovcation Law | Yelp Jacksonville