Panels & Programming
Are you interested in hosting a presentation at WasabiCon?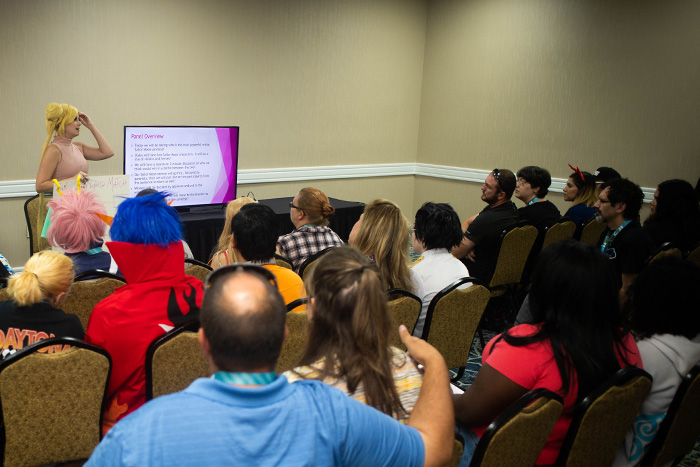 Fan Panel registration for 2023 is now closed.
Panels from fans and subject matter experts are an important part of the convention experience. Each year we open up the opportunity for attendees to contribute to the event's programming by showcasing their passion for others to share. Before filling out our panel submission form, though, please read the following expectations and requirements.
Only one (1) panel per person or group.
We want to present a variety of perspectives regarding geek culture and, while we value you taking the time to host a panel, we want to make sure you have the opportunity to enjoy the rest of the convention. If you are interested in hosting a series of panels as a subject matter expert, you might want to consider applying to be Talent instead of an attendee.
All panel hosts must be paid attendees of the convention.
While we appreciate you submitting a fan panel for consideration, we do not offer comp passes in exchange for a single presentation. As mentioned before, if you are interested in presenting more than one panel, you might want to review our requirements for applying to be Talent.
Panel topics must be appropriate for the convention's theme.
This means your presentation must appeal to fans of anime, manga, Asian pop culture, cosplay, tabletop gaming or video games. You can find further clarification regarding this on the application form below.
Panel content must not exceed a PG-13 rating unless approved as an 18+ panel submission.
WasabiCon is an event designed to feature content for all ages. As such, 18+ events are tightly regulated and offered outside of the standard daytime convention hours. If your panel topic isn't suitable for anyone under the age of 18 you must specify this in your panel submission.
Scheduling is subject to the needs of the convention.
We will do our best to work with you on scheduling the panel in a time slot that works best for everyone involved. If, for unforeseen reasons, we need to change when your panel is scheduled, we will let you know in advance.